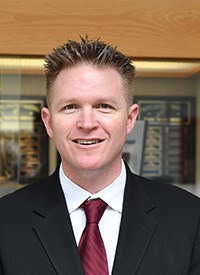 Justin Lunt was named the head men's basketball coach at Pacific University on April 11, 2018.
Lunt, who has spent the last 12 years as the head men's basketball coach at the University of Puget Sound, has taken the Loggers to seven Northwest Conference Tournament appearances, a Northwest Conference title and the Sweet 16 of the NCAA Division III basketball tournament.
"I am so grateful and excited to be named the head men's basketball coach at Pacific University," said Lunt. "I loved my opportunity to talk with Ken Schumann (Athletic Director), the search committee as well as the outstanding colleagues in the athletic department and across campus. The enthusiasm and commitment to providing the best experience for Boxer student-athletes resonated with me and I look forward to growing and learning with them."
In 12 seasons at Puget Sound, he accumulated a career record of 180-129 overall and 106-86 against Northwest Conference foes. In addition to success on the court, his team has risen its team GPA to a 3.1 which is the highest of any men's program at Puget Sound.
"Coach Lunt has a proven track record of success in the Northwest Conference. He is a perfect fit for Pacific in many ways, most importantly that his teams are noted for excellence both on the court and in the classroom," said Schumann. "I am confident that our men's basketball program will have great success under Coach Lunt's leadership."
"Pacific basketball fans can expect a fast-paced, gritty group to take the court next October as we work to put the Boxers in the Northwest Conference Tournament and beyond," said Lunt.
Prior to becoming head coach of the Loggers, he served as an assistant coach for two seasons. Lunt began his collegiate coaching career as an assistant coach at St. Martin's College (NCAA Division II) in Lacey, Washington.

Lunt is a graduate of Pacific Lutheran University and a San Diego, California native. He and his wife, Renee are the proud parents of two daughters, Madeleine and Indie.
"The Lunt family is truly grateful for all the opportunities in our life and look forward to joining the Boxer family," said Lunt.